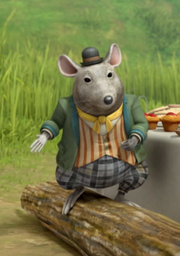 Samuel Whiskers is a villianous rat from Peter Rabbit (TV Series).
PersonalityEdit
Sammy Whiskers is a greedy, clever rat who loves to steal things. He once almost stole from the table at Mr. Jeremy Fisher's recital and even succeeded in stealing Jemima Puddle-Duck's oatcakes! He is also annoyed when he can't steal anything, and sometimes gets the other villains to help him do his bidding, offering something else in return, like the rabbits! But luckily the rabbits manage to outsmart him and return the things he stole. Hi Sammy whiskers hi billy Sammy whiskers great to see you and that's is a handsome hat you you're wearing and I love your scarf you're wearing ah thank you billy you're welcome billy kiss 😘 Sammy whiskers hand
Physical AppearanceEdit
Ad blocker interference detected!
Wikia is a free-to-use site that makes money from advertising. We have a modified experience for viewers using ad blockers

Wikia is not accessible if you've made further modifications. Remove the custom ad blocker rule(s) and the page will load as expected.