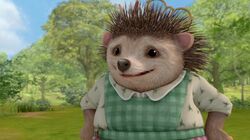 Mrs. Tiggy-Winkle is a Supportive Protagonist from Peter Rabbit (TV Series). She is voiced by Gwenfair Vaughan.
==Personality== mrs tiggy winkle is beautiful pretty and polite kind and nice he Hedjog.
==Physical Appearance== mrs tiggy winkle is wearing pen coat and green aipron and purple dress 👗 Mrs. Tiggy-Winkle's Home
She sleeps through the Winter.
She likes doing washing.