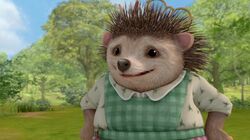 Mrs. Tiggy-Winkle is a Supportive Protagonist from Peter Rabbit (TV Series). She is voiced by Gwenfair Vaughan.
PersonalityEdit
Physical AppearanceEdit
Mrs. Tiggy-Winkle's Gallery. Hi mrs tiggy winkle hi billy billy gives her a hug how are you today I fine its great to see you welcome to lake drict and that's is a beautiful dress 👗 you wearing she lifts it up she ciruse thank you billy you're welcome billy kiss her hand😘
Ad blocker interference detected!
Wikia is a free-to-use site that makes money from advertising. We have a modified experience for viewers using ad blockers

Wikia is not accessible if you've made further modifications. Remove the custom ad blocker rule(s) and the page will load as expected.