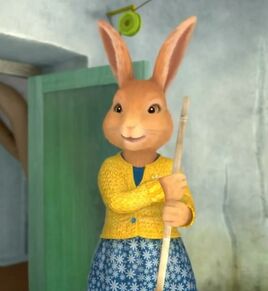 Mrs. Josephine Rabbit is Peter Rabbit, Flopsy, Mopsy and Cotton-Tail's loving mother and Benjamin Bunny's aunt. She is a oldest rabbit character on Peter Rabbit (TV Series), she was voiced by Stephanie Sheh (Season 1) and is now voiced by Katie Koslowski (Season 2). Age: 30 adult
PersonalityEdit
A strong, practical mother, Mrs. Rabbit provides for her brood in the most resourceful and traditional ways. Mrs. Rabbit represents the heart of Peter's home life. No matter what happens to him, no matter how much trouble he gets into, Peter knows that his mother will always welcome him home with unconditional love and a warm embrace.
Josephine Rabbit is a very kind, loving, caring person who is always willing to help out her children or anyone who needs her help in anyway including Cotton-Tail in the woods. She holds Cotton-Tail in lots of episodes and Cotton-Tail and Josephine look at each other in THE TALE OF COTTON-TAIL'S TOOTH episode.
Physical AppearanceEdit
Josephine Rabbit is a female rabbit, with light brown fur and golden eyes. She wears a blue dress with a white flower pattern, and a yellow coat over it. Hi Ms rabbit hi billy ms rabbit its great to see you and that's is a beautiful blue dress 👗 with white flower pattern and a yellow coat you're wearing oh why thank you 😊 billy you're welcome ms rabbit billy kiss her 🤚 oh that's so wonderful thank you you're welcome Ms rabbit Relationships
Peter and his mother have a very good relationship, she supports him on his adventures and is very proud of her son for all that he does. Peter often gets in to trouble trying to items for his mother and family, such as berries or vegetables so they can eat in the family rabbit burrow every season.
Also See: Josephine and Peter
Flopsy is close to her mother and often helps her out around the burrow or with their little sister, Cotton-Tail and her twin sister, Mopsy.
Mopsy has a very similar relationship with their mother as twin her sister does. Mopsy helps their mother whenever she needed them to whether it is around the house, cooking or taking care of their little sister, Cotton-Tail and do chores.
Since Cotton-Tail is a toddler she is often around her mother or if she sees her mother she will run over to her tap her foot and want her to be held tight just like a baby.
Mrs. Josephine Rabbit's Gallery
Ad blocker interference detected!
Wikia is a free-to-use site that makes money from advertising. We have a modified experience for viewers using ad blockers

Wikia is not accessible if you've made further modifications. Remove the custom ad blocker rule(s) and the page will load as expected.