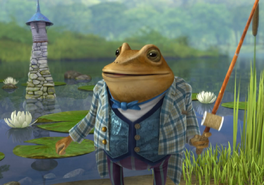 Mr. Jeremy Fisher is a supportive protagonist from Peter Rabbit (TV Series). He is voiced by Kirk Thornton.
PersonaliyEdit
Physical AppearanceEdit
Mr. Jeremy Fisher's Gallery hi billy hi mr Jeremy fisher mr Jeremy fisher is so wonderful to see you and I like that jacket is handsome oh thank you you're welcome Jeremy fisher billy kiss 😘 him on his hand
Ad blocker interference detected!
Wikia is a free-to-use site that makes money from advertising. We have a modified experience for viewers using ad blockers

Wikia is not accessible if you've made further modifications. Remove the custom ad blocker rule(s) and the page will load as expected.